The History of Troop 220
Pack 220 was chartered in 1937
We are proudly sponsored by Lee's Summit Christian Church
We are part of the Three Trails District in the Heart of America Council
Pack 220 is based in the central Lee's Summit 291 corridor, with Scouts from all over Lee's Summit and even other neighboring areas
Den meetings occur on the first and third Mondays of the month at 7:00 pm
Pack meetings are generally held on the fourth Tuesday of each month at 7:00 pm
Lee's Summit Christian Church is located at 800 NE Tudor Road, Lee's Summit, MO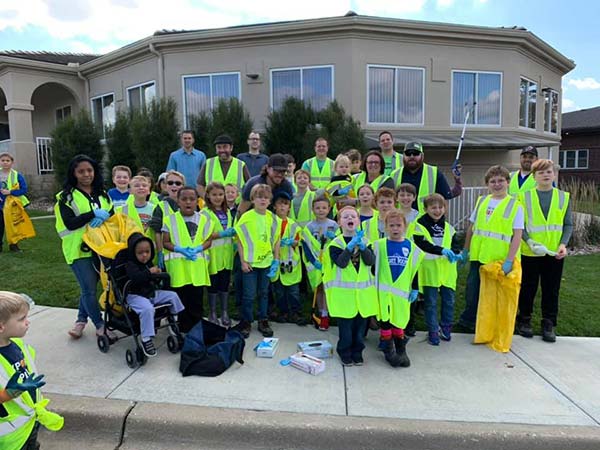 Our Scouts
We currently have over 50 registered Scouts in our pack.
We have nearly 20 registered adult leaders
Our Pack offers a full family experience with programs for both boys and girls
Dens are split by gender when possible, based on the number of boys and girls
Camping
We provide two family campouts per year; one in the spring and one in the fall
Scouts may attend summer camp at Theodore Naish in Bonner Springs for the group that they will be a part of the following school year

Wolves (attending 2nd grade in the Fall)
Bears (attending 3rd grade in the Fall)
Webelos (attending 4th grade in the Fall)
Arrow of Light (attending 5th grade in the Fall)

We also participate in many council-sponsored camping opportunities
Camping at the Cub Scout level is done with a chaperone (Scouts are not allowed to camp without a parent or guardian) and the whole family is invited to attend, with the exception of the summer camps where only the Scout and a guardian may attend.
Registration for summer camps occurs in January/February of each year.
Meetings
Den and Pack meetings are part of scouting where skill instruction is taught and Scouts have the opportunities to accomplish tasks needed to pass their Scouting requirements. Beginning in first grade, Scouts earn belt loops for each requirement or elective that they pass. Once Scouts reach the Webelos level, they earn pins rather than belt loops. Awards are given at monthly Pack meetings.
Den Meetings
Most den meetings begin at 7:00 pm, but some den leaders start earlier. Class A uniform should be worn to Pack meetings unless otherwise specified. It is important to participate in den meetings so that your Scout can learn the skills necessary to pass the requirements for each level. If your Scout misses a meeting, it is the parent's responsibility to go over anything that was missed with the child in order for them to stay on track. Parents may sign off on Scouting requirements at home and notify the den leader.
Den Ranks
Lions - Kindergarten
Tigers - 1st grade
Wolves - 2nd grade
Bears - 3rd grade
Webelos - 4th grade
Arrow of Light - 5th grade
Our Arrow of Light Scouts complete their rank by the end of October and crossover to either the Boy or Girl Troop in November.
Pack Meetings
Pack meetings begin at 7:00 pm and we encourage families to arrive early to help with setup. Class A uniforms should be worn to monthly Pack meetings unless otherwise specified. Pack meetings vary from educational programs to fun activities. The whole family is welcome to attend the Pack meeting and there are several opportunities where we recommend inviting extended family (such as grandparents, aunts, and uncles) when Scouts will earn their age-appropriate rank badge (Lion, Tiger, Wolf, Bear, Webelos, and Arrow of Light).
Attendance
Looking at scouting like a sport: the pack meetings are like practice/rehearsal, and the campouts are like game days/tournaments/competitions. It is important that Scouts attend as much as they can. Additionally, we provide several opportunities throughout the year for Scouts to participate in community service projects.